Beanstalk Farms · March 23rd, 2022
Bi-Weekly Bean #1
The Bi-Weekly Bean, a series where we recap Beanstalk related news from the past two weeks.
Welcome to the Bi-Weekly Bean, a series where we recap Beanstalk related news from the past two weeks. This issue covers 3/01/22–3/15/22.
What is Beanstalk? Beanstalk is a decentralized credit based stablecoin protocol built on Ethereum. Learn more at bean.money
Protocol Summary
The price of BEAN has remained tightly pegged over the last two weeks, with a maximum single-Season TWAP deviation of -$0.026. In the past week, price has remained mostly above peg, resulting in 1,268,099 newly-minted Beans since the beginning of March.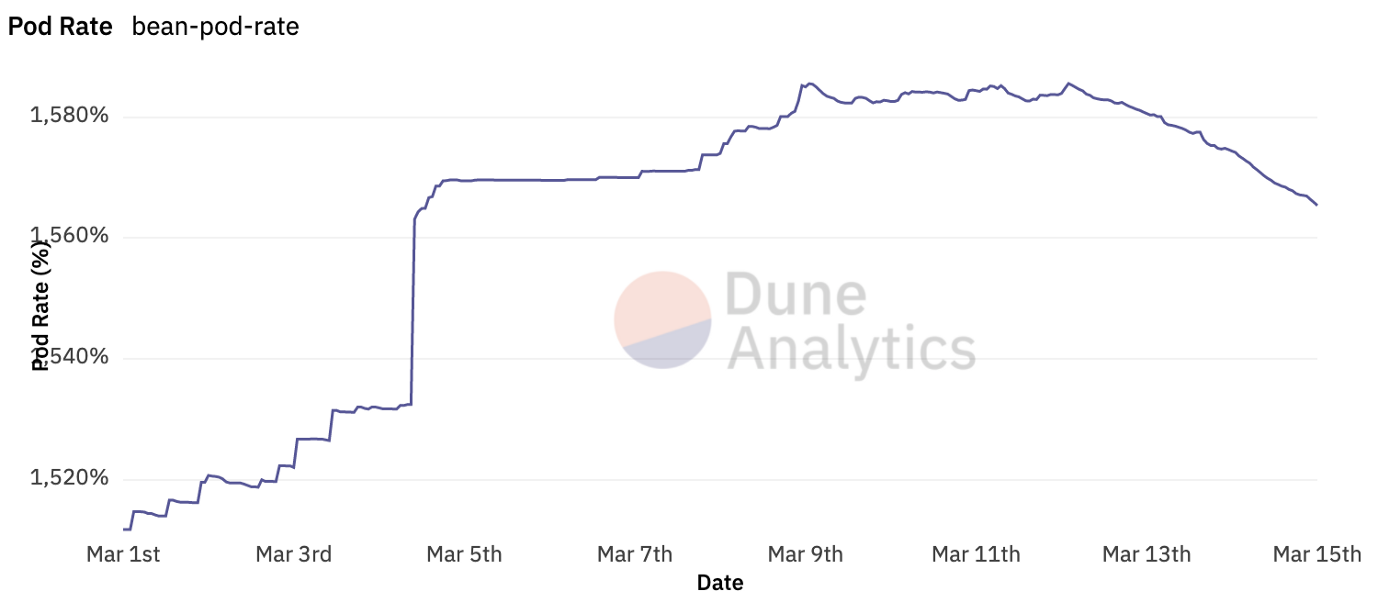 The recent increased demand for Bean is reflected in Beanstalk's Pod Rate - the ratio of Unharvestable Pods to total Beans - which has begun to soften, and the protocol's overall liquidity, which began kicking up materially on March 14th.

Weather reversed its upward trend around March 11th as a result of BIP-13's commitment. The BIP adjusted Weather Changes so that when demand for Soil is decreasing and P > 1, Weather does not change.

Protocol Updates
Version 1.8.0 of the whitepaper, which reflects the changes to the Silo made by BIP-12.
BIP-13: Adjustment to Weather Changes has been committed.
Beanstalk Farms Updates
An embedded Swap widget built by Uniswap which allows users to swap Beans to and from arbitrary tokens on Uniswap directly on app.bean.money. The currently-whitelisted tokens include ETH, DAI, FEI, FRAX, FXS, UNI, USDC, USDT and WBTC
An upgrade to the Silo interface on bean.money that reintroduces an APY metric for both Beans and Stalk.
Tally Wallet integration is in progress.
Beanstalk YouTube channel is live.
The first Beanstalk Poker Tournament was hosted by Bean Sprout on March 5th, 2022.
Serotonin is onboarded as Beanstalk's marketing agency.
First draft of the new Beanstalk style guide is out.
Liquity integration is in the testing phase.
New Beanstalk merchandise is available to order.
Beanstalk Dune Analytics page is updated with a Farmers Market section.