Beanstalk Farms · April 4th, 2022
Bi-Weekly Bean #2
The Bi-Weekly Bean, a series where we recap Beanstalk related news from the past two weeks.
Welcome to the Bi-Weekly Bean, a newsletter that recaps Beanstalk highlights in 2 week increments. This issue covers 3/16/22–4/3/22.
What is Beanstalk? Beanstalk is a decentralized credit based stablecoin protocol built on Ethereum. Learn more at bean.money.
Protocol Summary

Bean price continues to hang tightly to its peg. Demand for Beans is steadily increasing, with over 4 million newly-minted Beans in the past two weeks—a 300% increase over the March 1-15 period.

Bean supply reached an all-time high of USD 48.5 M, beating its previous record set in December last year.

This increased demand is also reflected in Beanstalk's Pod Rate, the ratio of unharvested Pods to total Beans, which has dropped down more than 100%.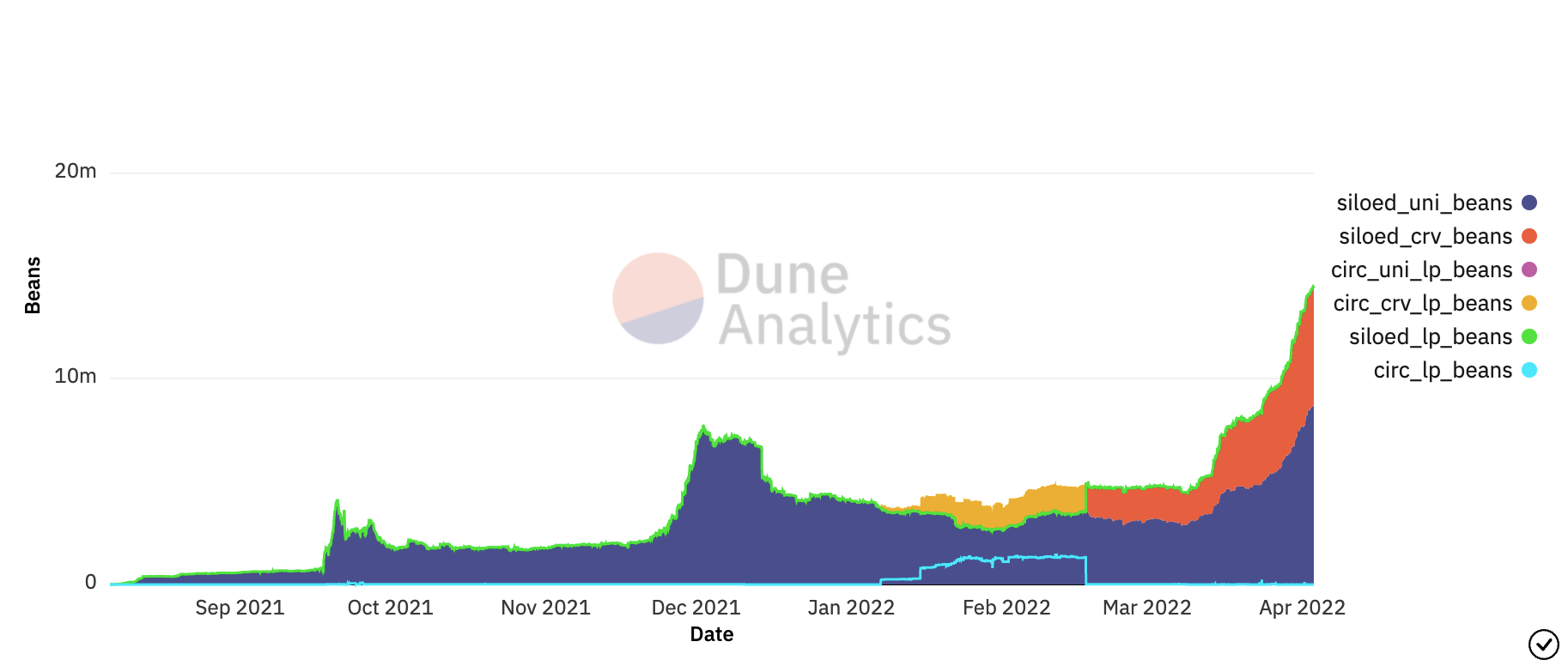 Overall protocol liquidity has reached all time high of 28.9 million USD, accelerated by a large influx of liquidity in the Uniswap BEAN:ETH pool.

The Weather continues to trend downwards, with a decrease of more than 400% in the last period—reflecting the high demand for Beans in general and particularly for Soil.
Protocol Updates
Omniscia—a decentralized smart contract auditing firm—has completed a formal audit of Beanstalk's core smart contracts. Read more about the audit here.
BIP-14, which outlines Beanstalk Farm's Q2 Budget, has been proposed.
BIP-15, an adjustment to the measurement of Demand for Soil, has been proposed.
Beanstalk Farms Updates
Beanstalk Farm's first Quarterly Stalkholders Meeting took place on March 30, 2022.
Beanstalk now supports WalletConnect, Ledger, and Coinbase Wallet users.
The new bean.money blog has launched.
The first three episodes of Bean Pod, a Beanstalk Farms podcast, are now live on Spotify.
The BEAN:LUSD liquidity pool is live on Curve.
Luna PR has been assigned as Beanstalk Farms PR agency.
New brand identity user feedback testing to start.
Beanstalk V1 Audio Direction established.
Layer 3 bounties have concluded.
Silo APY calculator is live on the Beanstalk Dune Analytics page.